It's hard to believe that we've lived in California for almost four years. When we moved here we felt like the future was wide open. I had a small fellowship to cover the cost of my doctoral studies, but we had very few connections in soCal. We didn't have jobs, or know where we would go to church. I didn't know how I would manage two preschoolers at home. But we were confident that we were being led into a new season, and were excited to see what God had in store for us.
To enumerate all of the unexpected gifts, challenges, friendships, failures, moments, and memories that we've experienced since we arrived would require another post entirely. To list them here would only further bury the lede, which is the fact that this season in California is coming to an end.
I've accepted a full-time position as Assistant Professor of Theology at Dordt College, and we are moving this summer.
Dordt is a small Christian college in northwest Iowa. When we visited the campus last December, it was very cold. The doors of our rental car at the Sioux Falls airport were frozen shut. But the students, faculty, and campus all blew me away. Though it seemed sort of in the middle of nowhere, the school was exactly the kind of place I had been hoping to work: it had a small student body, thick community, high student engagement, and it offered the opportunity to teach but also to do some writing, and to work with local churches.
Living and working in this new context will be a new adventure, with new challenges and opportunities. The town itself is small, which makes it all the stranger that my college roommate took a job there last year! Though not everyone will be that close, we are excited to be much closer to our family and friends in the Midwest.
At the same time, we will also deeply miss the family and friendships we have found here in California. Our church is probably the hardest thing to leave. It has been such a joy to worship with and to serve Grace Pasadena, which has been the source of so many unexpected blessings during our California sojourn. And we have gained so many other lifelong friends, colleagues, and mentors who have enriched our life beyond measure. To count those blessings would also require another post.
The main point of this post is to give a "public announcement" to friends who are further away. We will be in California for three more months! In the meantime, the kids will finish kindergarten and 2nd grade, and I will finish my PhD (what grade is that? 24th?) I've turned in a 95,000-word draft of the dissertation that has been passed on to my second reader. I have some revisions to make, but it feels that I've rounded the top of the mountain and am on my way down. It is difficult to describe the relief and joy of feeling like the end is in sight. I'm thinking it will be sort of like this in the end: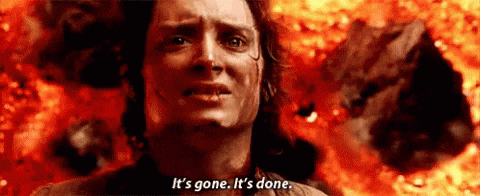 For those who are wondering, Melissa will keep her job at Wound Care Advantage and will work remotely from Iowa. She will travel a bit more, which will include regular trips back to LA.
We've purchased a house just a few blocks from campus, and the house has something that we've been missing the past four years – well, central air and kitchen counters – but also ample space to host people who want to visit us. Now the only problem is that there's not much else to see! So while I can't promise that Sioux Center will have all the amenities that Los Angeles offers, your accommodations will at least be more comfortable if you are able to come and see us.
Since our time in soCal is short, we are eating as much poke sushi and pho as we can, going to the beach as much as we can, and spending as much time with our friends as we can. So if you are local, want to eat sushi, or go to the beach, then let's get together!
Thanks for reading this, and for being a part of our lives. When we think of the last few years we feel immense gratitude. God is good, and we continue to be amazed at his faithfulness to us. Pray for us as we enter this new season!