I've decided to try to take the last two weeks of the year off from my to do lists – and hopefully away from the Internet as much as possible – so I'm writing my year end reflections a bit early. Here are some snapshots, highlights, and reflections from the year of teaching, scholarship, ministry, and family life.
Teaching
I taught four distinct classes this year: Biblical Foundations (multiple sections), Spiritual Formation, Theology & Popular Culture, and Gospel, Church, & Culture. I enjoy all my classes, but the last two are the most exciting to teach, and allowed me to test run some of the material from my new book. The students were gracious, thoughtful, and as always, I learned from them.
Department-wise, we said goodbye to our department chair, and the chair passed to me. We ran a search and added two new members to the department. We moved to a new space, which facilitated a wonderful departmental camaraderie. There have been so many welcome "distractions" as we've stood in the doorways of our offices and talked about theology, teaching, and everything else. I'm so glad to be a part of this team (the picture is missing one member).
Scholarship
My major writing milestone was submitting the manuscript for my next book, Interpreting Your World (Baker Academic). Although it reflects thoughts I've been thinking for some time, the bulk of it was written over several hundred hours from January-July.
The second major project was launching and managing the In All Things podcast. We produced 15 episodes, learning from 16 thinkers, writers, and artists we were thrilled to host. It has been fun to learn how to be a podcaster, and I am excited for the conversations that the new year holds. The clear highlight from the whole experience was an in-person interview with Andrew Peterson.
I also published a few smaller pieces – mostly for In All Things (6), but also for other outlets like The Banner, Fare Forward, and Christianity Today. After my article on RZIM and apologetics, my most read piece was one of the first ones I wrote, my reflection on the storming of the capitol.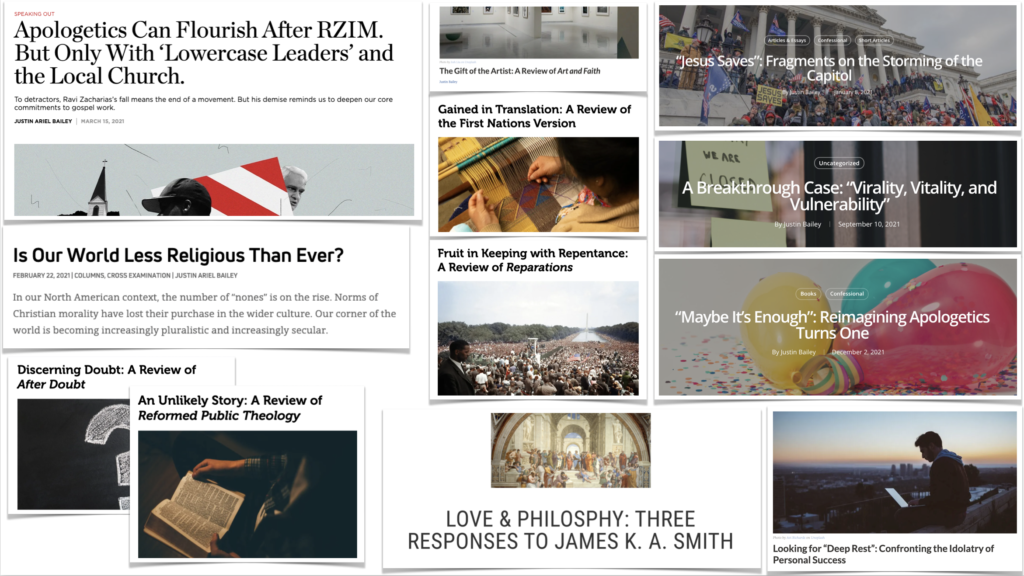 Speaking
The primary speaking activity I do is preaching, and I was grateful for the opportunity to preach 22 times, mostly at Bridge of Hope CRC (18). I also had the privilege of officiating two weddings for former students.
I also had the opportunity to travel to three conferences (+1 virtual event) to give lectures on imagination, culture, and faith. And I got to attend two additional conferences where I didn't have to give a presentation.
Family
Our family loves to travel, and we were thankful for the opportunity to do more of that this year (compared to last year). We enjoyed trips to South Dakota, Colorado, Los Angeles, Chicago, and Washington, D.C. My children are at a wonderful age right now – more stamina than when they were little, and yet they still think we (Melissa and I) are cool. We'll see how long that lasts!
Personal
I realize that up to this point I have primarily been listing accomplishments, milestones, and highlights. Part of this is because I am wired to focus on such things and to draw attention to them, like a peacock parading its feathers (Enneagram 3!).
I do feel deep gratitude for the past year, for meaningful work, a healthy family, and a comfortable situation. But I also feel a thinness to my soul, as Bilbo might say, "like butter scraped over too much bread." At the end of a full year, I still feel disappointed and discontent, restless and resentful, undisciplined and uncertain.
There's a line in Rebecca Konyndyk DeYoung's book Glittering Vices, where she says something like, we are stuck between a self that we cannot bear and a self we can't bear to become. I relate to that, and there is definitely a part of me that thinks, "you don't have to live this way." What are the ways I can renew my rhythms of contemplation and communion in the new year? How can I be less connected to the polluted, digital ecosystem? How can I slow down? How can I lean in? How can I cultivate depth? And there is something right about asking these questions at the end of the year.
But I also realize that part of my struggle will never be solved by any amount of self-improvement. Weariness is a permanent feature of the human condition on this side of things (just ask Qoheleth). There are some things for which there is no immediate cure – only a lifelong therapy – a long, slow, learning to let go, learning to stop, learning to trust, learning – ultimately – to die.
These are lessons that are hard to learn. And so, I am left "leaning on the everlasting arms," looking to the One in whom I hope to find rest, and the ability to say, "it is enough."
"We cannot secure ourselves. We can only be secured by one who is faithful to us." (Walter Brueggemann)
Advent Blessings, Merry Christmas, and Happy New Year.